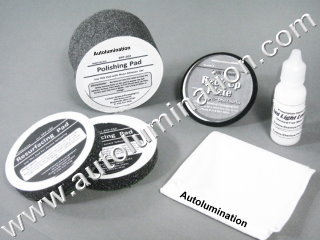 Special Features of this Kit:
This kit contains enough materials to easily do two headlights, however, if you use the kit sparingly, you can often do 4 or more lenses with pads and chemicals from a single kit.
This kit works equally well on any clear or colorized plastic lenses.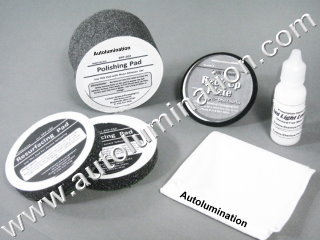 Description:
Steps:

1. Inspect and clean the lens with water.
2. Wet sand the lens using an electric drill and the resurfacing pad included with the kit. Wet sand until all pits and discoloration are removed.
3. Clean the lens with water.
4. Apply the chemical polishing compound to the polishing pad and polish the lens. Clean, inspect and polish again until smooth. Use water to keep the polishing compound wet while polishing.
5. Clean the lens.
6. (Optional) Apply self adhesive vinyl clear coat film.