How to determine if the bulb is faulty or the vehicle circuitry is just not functioning with the led bulbs in place.
Installing led bulbs is not always a "plug and play" operation. Although we have devised our patented circuitry with as much logic as possible to allow it to plug and play in many vehicles, it is not possible to design the 7443 led bulbs to plug and play in 100% of all vehicles.
In order to properly diagnose and fix problems, it is essential to isolate bulb related problems from circuit related problems. It is never a good idea to plug and led bulb into a vehicles circuit to test the led bulb. This is testing both the led bulb and the circuit at the same time. This method of testing will make it impossible to isolate problems with the bulb from problems with the circuit.
It is always recommended that if the bulb is not working in the circuit, test the led bulb using two wires connected direct to battery or any other known 12 volt DC power source. This is the only way an led bulb can be isolated from the circuit related problems and properly tested.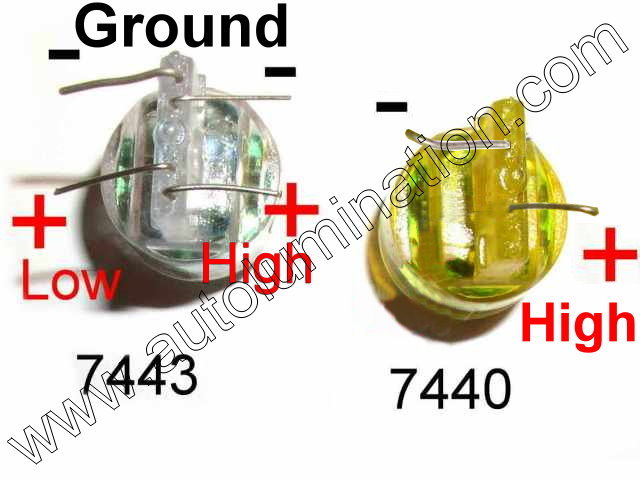 How to fix circuit related problems.
OK you plugged your new led bulbs in and they "don't work". The bulb must be defective, right? WRONG!
First... Did you test the bulbs as described above? If not, you need to test the bulbs only. Use the diagrams shown above to test the bulbs. It is best to use two wires that are connected direct to battery to test the bulbs. If you did not test the bulb as prescribed, you will never figure out if the problem is with the bulb or the circuit or the installation. Never assume the bulb must be bad. 99.8% of the time, the led bulbs are working as they should, but the circuitry is just not set up to operate properly with an led bulb. The odds that you received a non-functional LED bulb is very unlikely....less that 1 in 500.
99% of the time, the circuit related issues can be overcome, but it may take some extra effort and/or some minor wiring changes to get the 7443 led bulbs to work in some vehicles.
Here is a list of some common symptoms and fixes for automotive circuitry:
| | |
| --- | --- |
| Symptom | Fix |